Cómo se ha comportado este fondo
31/10/2018
Crecimiento de 1.000 (EUR)
Gráfico Avanzado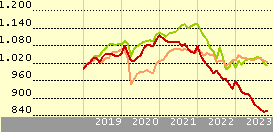 Fondo
4,8
2,1
-4,0
1,1
-7,7
+/-Cat
-
-
-
-
-
+/-Ind
-
-
-
-
-
 
Benchmark de la Categoría: -
Estadística Rápida
VL
19/11/2018
 
EUR 11,19
Cambio del día
 
0,05%
Categoría Morningstar™
 
Alt - Multiestrategia
ISIN
 
LU0548153104
Patrimonio (Mil)
16/11/2018
 
EUR 5447,92
Patrimonio Clase (Mil)
16/11/2018
 
EUR 142,14
Comisión Máx. Suscripción
 
5,00%
Gastos Corrientes
01/10/2018
 
1,68%

*  Este informe y rating fueron emitidos para una clase diferente de este mismo fondo. La rentabilidad y la estructura de comisiones de este fondo puede variar de lo mencionado aquí.
Analyst Report
The fund is currently Under Review as we assess Guy Stern's retirement and senior changes that will take place. GARS is a good choice for investors seeking a time-tested multistrategy offering. It's the longest-running of the UCITS regulated...
Haga clic aquí para leer el análisis
Pilares Morningstar
Personal
Firma Gestora
Neutral
Proceso
Performance
Precio
Objetivo de inversión: Standard Life Investments Global SICAV - Global Absolute Return Strategies Fund A Acc EUR
El objetivo del fondo es proporcionar una rentabilidad positiva absoluta a medio y largo plazo en todas las condiciones del mercado.
Returns
| | |
| --- | --- |
| Rentabilidades acumul. % | 19/11/2018 |
| Año | -7,49 |
| 3 años anualiz. | -4,05 |
| 5 años anualiz. | -0,62 |
| 10 años anualiz. | - |
| | | |
| --- | --- | --- |
| Rendimento a 12 meses |   | 0,00 |
Gestión
Nombre del gestor
Fecha Inicio
Guy Stern
26/01/2011
Creación del fondo
26/01/2011
Benchmark de la Categoría
Benchmark de fondos
Benchmark Morningstar
Euribor 6 Month EUR
-
Target Market
Role In Portfolio
Standalone / Core
No específico
Component
No específico
Otro
No específico
Primary Objective
Preservación
Sí
Crecim
Sí
Ingresos
No específico
Cobertura (hedging)
No específico
Otro
No específico
Qué posee el fondo  Standard Life Investments Global SICAV - Global Absolute Return Strategies Fund A Acc EUR
-
Style Box® de Morningstar
Estilo de acciones
Style Box® de Morningstar
Estilo de renta fija

Colocación de activos
 
% largo
% corto
% patrimonio
Renta Fija
Vencimiento efectivo
-
Duración efectiva
-

5 regiones principales
%
No hay datos disponibles
5 mayores sectores
%
No hay datos disponibles

5 mayores posic.
Sector
%
No hay datos disponibles
Incremento Reducción Nuevo desde la anterior cartera
Standard Life Investments Global SICAV - Global Absolute Return Strategies Fund A Acc EUR