Cómo se ha comportado este fondo
30/11/2018
Crecimiento de 1.000 (EUR)
Gráfico Avanzado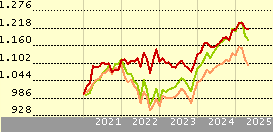 Fondo
13,8
8,2
1,4
12,4
-2,9
+/-Cat
8,5
6,1
-0,8
7,4
2,0
+/-Ind
-1,4
2,6
-6,3
7,6
-4,9
 
Benchmark de la Categoría: Cat 50%Barclays EurAgg TR&5...
Estadística Rápida
VL
07/12/2018
 
EUR 1660,00
Cambio del día
 
-1,73%
Categoría Morningstar™
 
Mixtos Flexibles EUR - Global
ISIN
 
LU0558384458
Patrimonio (Mil)
06/12/2018
 
EUR 79,36
Patrimonio Clase (Mil)
06/12/2018
 
EUR 49,78
Comisión Máx. Suscripción
 
1,00%
Gastos Corrientes
05/01/2018
 
2,02%
Objetivo de inversión: Vector Flexible C1 Acc
The Sub-Fund is a global equity fund that is actively managed on the basis of a set of mathematical valuation models belonging to the Investment Advisor. Throughout a full business cycle, the Sub-Fund aims to maximize its alpha while targeting a beta of close to 0.75 with the global equity markets (in euro). In order to achieve this, the Management Company systematically screens global equity markets in search of undervalued stocks, by assessing over 2500 companies on a quantitative basis on their growth, risk and valuation properties. The Sub-Fund may invest up to 100% of its assets in cash or money market instruments. The Sub-Fund may invest up to 10% of its net assets in units or shares of UCITS. It may also use futures and other derivatives to hedge its currency and market exposure.
Returns
| | |
| --- | --- |
| Rentabilidades acumul. % | 07/12/2018 |
| Año | -5,78 |
| 3 años anualiz. | 1,89 |
| 5 años anualiz. | 5,79 |
| 10 años anualiz. | - |
| | | |
| --- | --- | --- |
| Rendimento a 12 meses |   | 0,00 |
Gestión
Nombre del gestor
Fecha Inicio
Werner Smets
22/11/2010
Thierry Vandeghinste
22/11/2010
Creación del fondo
22/11/2010
Benchmark de la Categoría
Benchmark de fondos
Benchmark Morningstar
50% FTSE World TR EUR ,  50% BBgBarc Euro Agg Bond TR EUR
Cat 50%Barclays EurAgg TR&50%FTSE Wld TR
Target Market
Role In Portfolio
Standalone / Core
No específico
Component
No específico
Otro
No específico
Primary Objective
Preservación
No específico
Crecim
Sí
Ingresos
No
Cobertura (hedging)
No
Otro
No específico
Qué posee el fondo  Vector Flexible C1 Acc
30/11/2018
Style Box® de Morningstar
Estilo de acciones
Style Box® de Morningstar
Estilo de renta fija

Colocación de activos
 
% largo
% corto
% patrimonio
Acciones
96,49
1,12
95,37
Obligaciones
0,00
0,00
0,00
Efectivo
4,63
0,00
4,63
Otro
0,00
0,00
0,00
Renta Fija
Vencimiento efectivo
-
Duración efectiva
-

| | |
| --- | --- |
| 5 regiones principales | % |
| Estados Unidos | 52,69 |
| Zona Euro | 9,37 |
| Reino Unido | 7,12 |
| Japón | 6,59 |
| Asia - Emergente | 5,87 |
5 mayores sectores
%
Tecnología
20,21
Salud
16,14
Consumo Cíclico
15,29
Consumo Defensivo
9,88
Industria
9,47