Cómo se ha comportado este fondo
30/11/2018
Crecimiento de 1.000 (EUR)
Gráfico Avanzado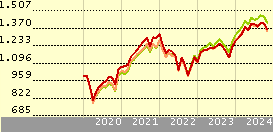 Fondo
6,7
12,7
-0,9
14,0
-2,9
+/-Cat
0,6
-2,4
-1,3
1,5
4,0
+/-Ind
0,3
2,1
-3,3
2,6
2,4
 
Benchmark de la Categoría: MSCI Europe Ex UK NR EUR
Estadística Rápida
VL
10/12/2018
 
EUR 14,55
Cambio del día
 
-1,36%
Categoría Morningstar™
 
RV Europa ex-RU Cap. Grande
ISIN
 
LU0285832068
Patrimonio (Mil)
07/12/2018
 
EUR 85,36
Patrimonio Clase (Mil)
07/12/2018
 
EUR 83,73
Comisión Máx. Suscripción
 
-
Gastos Corrientes
16/02/2018
 
0,75%

*  Este informe y rating fueron emitidos para una clase diferente de este mismo fondo. La rentabilidad y la estructura de comisiones de este fondo puede variar de lo mencionado aquí.
Analyst Report
In our view, this fund's personnel and other strengths remain intact, so it maintains a Morningstar Analyst Rating of Bronze. Lead manager Dean Tenerelli has a good resume for the task at hand. Indeed, he has more than two decades of investment...
Haga clic aquí para leer el análisis
Pilares Morningstar
Personal
Positive
Firma Gestora
Positive
Proceso
Positive
Performance
Neutral
Precio
Positive
Objetivo de inversión: T. Rowe Price Funds SICAV - Continental European Equity Fund I EUR
El objetivo del Fondo es maximizar la rentabilidad total invirtiendo, principalmente, en una cartera de bonos corporativos diversificada denominada en euros. Las inversiones podrán incluir acciones preferentes y otros valores mobiliarios de renta fija, incluidos aquellos emitidos por los gobiernos de los países de la Eurozona. El Fondo podrá mantener una exposición limitada a valores denominados en otras divisas europeas.
Returns
| | |
| --- | --- |
| Rentabilidades acumul. % | 10/12/2018 |
| Año | -6,67 |
| 3 años anualiz. | 2,08 |
| 5 años anualiz. | 5,83 |
| 10 años anualiz. | 11,16 |
| | | |
| --- | --- | --- |
| Rendimento a 12 meses |   | 0,00 |
Gestión
Nombre del gestor
Fecha Inicio
Dean Tenerelli
06/05/2009
Creación del fondo
26/02/2007
Benchmark de la Categoría
Benchmark de fondos
Benchmark Morningstar
FTSE AW Dv Europe Ex UK TR EUR
MSCI Europe Ex UK NR EUR
Target Market
Role In Portfolio
Standalone / Core
No específico
Component
No específico
Otro
No específico
Primary Objective
Preservación
No específico
Crecim
Sí
Ingresos
No específico
Cobertura (hedging)
No específico
Otro
No específico
Qué posee el fondo  T. Rowe Price Funds SICAV - Continental European Equity Fund I EUR
30/09/2018
Style Box® de Morningstar
Estilo de acciones
Colocación de activos
 
% largo
% corto
% patrimonio
Acciones
97,45
0,00
97,45
Obligaciones
0,00
0,00
0,00
Efectivo
2,55
0,00
2,55
Otro
0,00
0,00
0,00
| | |
| --- | --- |
| 5 regiones principales | % |
| Zona Euro | 64,28 |
| Europe - ex Euro | 30,97 |
| Reino Unido | 1,90 |
| Europe emergente | 1,55 |
| Estados Unidos | 1,31 |
5 mayores sectores
%
Servicios Financieros
20,53
Industria
17,86
Salud
13,06
Consumo Defensivo
12,77
Consumo Cíclico
12,01