Cómo se ha comportado este fondo
30/11/2018
Crecimiento de 1.000 (EUR)
Gráfico Avanzado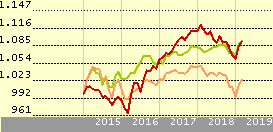 Fondo
5,3
-1,2
7,3
4,8
-4,0
+/-Cat
-0,1
-1,9
5,4
2,7
-0,6
+/-Ind
-7,9
-4,5
1,8
2,0
-4,9
 
Benchmark de la Categoría: Cat 75%Barclays EurAgg TR&2...
Estadística Rápida
VL
17/12/2018
 
EUR 20,60
Cambio del día
 
-0,02%
Categoría Morningstar™
 
Mixtos Defensivos EUR - Global
ISIN
 
GB00B1VMD022
Patrimonio (Mil)
17/12/2018
 
GBP 20709,17
Patrimonio Clase (Mil)
17/12/2018
 
EUR 3713,69
Comisión Máx. Suscripción
 
1,25%
Gastos Corrientes
09/10/2018
 
0,93%

*  Este informe y rating fueron emitidos para una clase diferente de este mismo fondo. La rentabilidad y la estructura de comisiones de este fondo puede variar de lo mencionado aquí.
Analyst Report
Our conviction in M&G Optimal Income largely stems from our confidence in manager Richard Woolnough. Woolnough's expertise in macroeconomic analysis and ability to allocate across the fixed-income universe underpin the fund's unconstrained...
Haga clic aquí para leer el análisis
Pilares Morningstar
Personal
Positive
Firma Gestora
Neutral
Proceso
Positive
Performance
Positive
Precio
Negative
Objetivo de inversión: M&G Optimal Income Fund Euro C-H Acc
Al menos el 50% del fondo está invertido en instrumentos de deuda, pero también podrá invertir en planes de inversión colectiva, instrumentos del mercado monetario, dinero en efectivo, depósitos, acciones y derivados.
Returns
| | |
| --- | --- |
| Rentabilidades acumul. % | 17/12/2018 |
| Año | -4,03 |
| 3 años anualiz. | 2,60 |
| 5 años anualiz. | 2,45 |
| 10 años anualiz. | 8,15 |
| | | |
| --- | --- | --- |
| Rendimento a 12 meses |   | 2,01 |
Gestión
Nombre del gestor
Fecha Inicio
Richard Woolnough
08/12/2006
Creación del fondo
20/04/2007
Benchmark de la Categoría
Benchmark de fondos
Benchmark Morningstar
Sin benchmark
Cat 75%Barclays EurAgg TR&25%FTSE Wld TR
Target Market
Role In Portfolio
Standalone / Core
No específico
Component
No específico
Otro
No específico
Primary Objective
Preservación
No específico
Crecim
Sí
Ingresos
No específico
Cobertura (hedging)
No específico
Otro
No específico
Qué posee el fondo  M&G Optimal Income Fund Euro C-H Acc
30/11/2018
Style Box® de Morningstar
Estilo de acciones
Style Box® de Morningstar
Estilo de renta fija

Colocación de activos
 
% largo
% corto
% patrimonio
Acciones
5,79
0,00
5,79
Obligaciones
152,29
68,47
83,83
Efectivo
36,78
31,13
5,65
Otro
4,74
0,00
4,74
Renta Fija
Vencimiento efectivo
-
Duración efectiva
-

| | |
| --- | --- |
| 5 regiones principales | % |
| Zona Euro | 53,05 |
| Reino Unido | 29,25 |
| Europe - ex Euro | 13,71 |
| Estados Unidos | 3,98 |
| Canadá | 0,00 |
5 mayores sectores
%
Servicios Financieros
45,02
Consumo Cíclico
18,75
Salud
13,71
Consumo Defensivo
9,03
Servicios Públicos
7,42