Cómo se ha comportado este fondo
31/12/2018
Crecimiento de 1.000 (EUR)
Gráfico Avanzado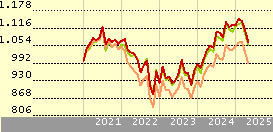 Fondo
-
-4,5
14,0
20,4
-11,1
+/-Cat
-
0,1
1,6
1,6
1,2
+/-Ind
-
0,7
-0,5
-0,2
-0,8
 
Benchmark de la Categoría: MSCI EM NR USD
Estadística Rápida
Precio de Cierre
22/01/2019
 
EUR 23,65
Cambio del día
 
-0,63%
Categoría Morningstar™
 
RV Global Emergente
Volumen
 
107791
Bolsa
 
DEUTSCHER KASSENVEREIN AG GRUPPE DEUTSCHE BOERSE
ISIN
 
IE00BKM4GZ66
Patrimonio (Mil)
22/01/2019
 
USD 11633,08
Patrimonio Clase (Mil)
22/01/2019
 
USD 11445,42
Gastos Corrientes
13/07/2018
 
0,18%

*  Este informe y rating fueron emitidos para una clase diferente de este mismo fondo. La rentabilidad y la estructura de comisiones de este fondo puede variar de lo mencionado aquí.
IShares Core MSCI Emerging Markets IMI UCITS ETF's low cost overcomes concerns about its country weightings, earning it a Morningstar Analyst Rating of Bronze. The fund's ongoing charge of 0.25% makes it amongst the cheapest in the global...
Haga clic aquí para leer el análisis
Objetivo de inversión: iShares Core MSCI EM IMI UCITS ETF USD (Acc) (EUR) | IS3N
The investment objective of the Fund is to provide investors with a total return, taking into account both capital and income returns, which reflects the return of the MSCI Emerging Markets Investable Market Index (IMI).
Returns
| | |
| --- | --- |
| Rentabilidades acumul. % | 22/01/2019 |
| Año | 5,38 |
| 3 años anualiz. | 12,05 |
| 5 años anualiz. | - |
| 10 años anualiz. | - |
Gestión
Nombre del gestor
Fecha Inicio
No Suministrado
30/05/2014
Creación del fondo
30/05/2014
Benchmark de la Categoría
Benchmark de fondos
Benchmark Morningstar
MSCI EM IMI NR USD
MSCI EM NR USD
Target Market
Role In Portfolio
Standalone / Core
No específico
Component
No específico
Otro
No específico
Primary Objective
Preservación
No específico
Crecim
Sí
Ingresos
Sí
Cobertura (hedging)
No específico
Otro
No específico
Qué posee el fondo  iShares Core MSCI EM IMI UCITS ETF USD (Acc) (EUR) | IS3N
21/01/2019
Style Box® de Morningstar
Estilo de acciones
Colocación de activos
 
% largo
% corto
% patrimonio
Acciones
99,18
0,00
99,18
Obligaciones
0,00
0,00
0,00
Efectivo
0,76
0,00
0,76
Otro
0,06
0,00
0,06
| | |
| --- | --- |
| 5 regiones principales | % |
| Asia - Emergente | 46,34 |
| Asia - Desarrollada | 26,49 |
| Iberoamérica | 12,66 |
| África | 6,17 |
| Europe emergente | 5,87 |
5 mayores sectores
%
Tecnología
23,26
Servicios Financieros
23,20
Consumo Cíclico
11,55
Materiales Básicos
8,05
Energía
7,23