Xtrackers MSCI World Quality UCITS ETF 1C
Cómo se ha comportado este fondo
31/08/2019
Crecimiento de 1.000 (EUR)
Gráfico Avanzado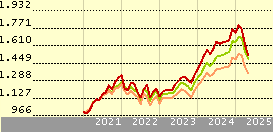 Fondo
9,7
12,1
8,2
-3,2
22,1
+/-Cat
-2,0
8,2
-4,3
2,6
0,5
+/-Ind
-3,4
5,7
-5,9
0,3
-2,2
 
Benchmark de la Categoría: MSCI ACWI Growth NR USD
Estadística Rápida
Precio de Cierre
-
 
 -
Cambio del día
 
-0,02%
Categoría Morningstar™
 
RV Global Cap. Grande Growth
Bolsa
 
XFMQ
ISIN
 
IE00BL25JL35
Patrimonio (Mil)
17/09/2019
 
USD 246,27
Patrimonio Clase (Mil)
17/09/2019
 
USD 246,27
Gastos Corrientes
19/02/2019
 
0,25%
X World Quality ETF F is a great low-cost index strategy that should hold up a little better than the market and most of its peers during downturns. While it probably won't beat the market in strong rallies, it should offer better risk-adjusted...
Haga clic aquí para leer el análisis
Objetivo de inversión: Xtrackers MSCI World Quality UCITS ETF 1C
The Fund aims to reflect the performance before fees and expenses of the MSCI World Sector Neutral Quality (USD) Index (Index). The Index is based on the MSCI World Index (Parent Index) which is designed to reflect the performance of certain shares in large and medium listed companies in developed markets countries. In order to be eligible for inclusion in the Index, shares must be included as constituents within the Parent Index and are then selected using a quality strategy. The quality strategy considers various quality characteristics of the shares and compares those results to peer companies. The characteristics focus on Return-on-equity (amount of income generated as a percentage of shareholders equity), leverage (which monitors the level of debt within the company), and earning variability (which monitors movements in a company's net earnings over a set time period).
Returns
| | |
| --- | --- |
| Rentabilidades acumul. % | 18/09/2019 |
| Año | 24,67 |
| 3 años anualiz. | 12,52 |
| 5 años anualiz. | 11,00 |
| 10 años anualiz. | - |
| | | |
| --- | --- | --- |
| Rendimento a 12 meses |   | 0,00 |
Gestión
Nombre del gestor
Fecha Inicio
No Suministrado
11/09/2014
Creación del fondo
11/09/2014
Benchmark de la Categoría
Benchmark de fondos
Benchmark Morningstar
MSCI World Sector Neutral Quality NR USD
MSCI ACWI Growth NR USD
Target Market
Role In Portfolio
Standalone / Core
No específico
Component
No específico
Otro
No específico
Primary Objective
Preservación
No específico
Crecim
Sí
Ingresos
No específico
Cobertura (hedging)
No específico
Otro
No específico
Qué posee el fondo  Xtrackers MSCI World Quality UCITS ETF 1C
18/09/2019
Style Box® de Morningstar
Estilo de acciones
Colocación de activos
 
% largo
% corto
% patrimonio
Acciones
99,96
0,00
99,96
Obligaciones
0,00
0,00
0,00
Efectivo
0,05
0,00
0,05
Otro
0,01
0,01
0,00
| | |
| --- | --- |
| 5 regiones principales | % |
| Estados Unidos | 66,96 |
| Reino Unido | 7,28 |
| Zona Euro | 7,28 |
| Europe - ex Euro | 7,05 |
| Asia - Desarrollada | 4,82 |
5 mayores sectores
%
Tecnología
19,60
Servicios Financieros
18,21
Consumo Cíclico
13,00
Salud
12,35
Industria
10,92