iShares Agribusiness UCITS ETF USD (Acc) (EUR) | IS0C
Cómo se ha comportado este fondo
31/12/2018
Crecimiento de 1.000 (EUR)
Gráfico Avanzado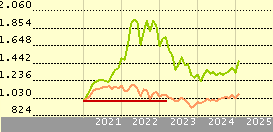 Fondo
16,1
-0,1
10,8
19,9
-4,2
+/-Cat
2,2
1,6
1,7
15,0
6,5
+/-Ind
-5,6
0,9
-5,1
16,0
5,1
 
Benchmark de la Categoría: S&P Global Agribusiness Equ...
Estadística Rápida
Precio de Cierre
22/01/2019
 
EUR 27,91
Cambio del día
 
0,00%
Categoría Morningstar™
 
RV Sector Agricultura
Volumen
 
0
Bolsa
 
DEUTSCHER KASSENVEREIN AG GRUPPE DEUTSCHE BOERSE
ISIN
 
IE00B6R52143
Patrimonio (Mil)
22/01/2019
 
USD 62,05
Patrimonio Clase (Mil)
22/01/2019
 
USD 62,05
Gastos Corrientes
31/05/2018
 
0,55%
Objetivo de inversión: iShares Agribusiness UCITS ETF USD (Acc) (EUR) | IS0C
The fund is an exchange traded fund (ETF) that aims to track the performance of the S&P Commodity Producers Agribusiness Index as closely as possible. The ETF invests in physical index securities. The S&P Commodity Producers Agribusiness Index offers exposure to the largest publicly-traded companies involved in the agriculture business from around the world. The index is free float market capitalisation weighted. iShares ETFs are funds managed by BlackRock. They are transparent, cost-efficient, liquid vehicles that trade on stock exchanges like normal securities. iShares ETFs offer flexible and easy access to a wide range of markets and asset classes.
Returns
| | |
| --- | --- |
| Rentabilidades acumul. % | 22/01/2019 |
| Año | 0,00 |
| 3 años anualiz. | 7,91 |
| 5 años anualiz. | 5,75 |
| 10 años anualiz. | - |
Gestión
Nombre del gestor
Fecha Inicio
No Suministrado
16/09/2011
Creación del fondo
16/09/2011
Benchmark de la Categoría
Benchmark de fondos
Benchmark Morningstar
S&P Cmmdity Prdcers Agrbusz Index NR USD
S&P Global Agribusiness Equity TR USD
Target Market
Role In Portfolio
Standalone / Core
No específico
Component
No específico
Otro
No específico
Primary Objective
Preservación
No específico
Crecim
Sí
Ingresos
Sí
Cobertura (hedging)
No específico
Otro
No específico
Qué posee el fondo  iShares Agribusiness UCITS ETF USD (Acc) (EUR) | IS0C
21/01/2019
Style Box® de Morningstar
Estilo de acciones
Colocación de activos
 
% largo
% corto
% patrimonio
Acciones
99,63
0,00
99,63
Obligaciones
0,00
0,00
0,00
Efectivo
0,37
0,00
0,37
Otro
0,00
0,00
0,00
| | |
| --- | --- |
| 5 regiones principales | % |
| Estados Unidos | 51,49 |
| Canadá | 10,13 |
| Europe - ex Euro | 10,07 |
| Japón | 9,24 |
| Reino Unido | 5,30 |
5 mayores sectores
%
Consumo Defensivo
50,93
Materiales Básicos
26,28
Industria
22,46
Energía
0,33