Cómo se ha comportado este fondo
31/01/2019
Crecimiento de 1.000 (EUR)
Gráfico Avanzado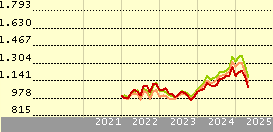 Fondo
9,7
22,8
1,5
0,6
6,1
+/-Cat
4,6
5,9
-0,2
5,3
-1,6
+/-Ind
2,6
2,0
1,6
4,2
-1,3
 
Benchmark de la Categoría: Russell 1000 Value TR USD
Estadística Rápida
Precio de Cierre
18/02/2019
 
EUR 48,14
Cambio del día
 
-0,22%
Categoría Morningstar™
 
RV USA Cap. Grande Value
Volumen
 
18344
Bolsa
 
DEUTSCHER KASSENVEREIN AG GRUPPE DEUTSCHE BOERSE
ISIN
 
IE00B6YX5D40
Patrimonio (Mil)
18/02/2019
 
USD 2759,50
Patrimonio Clase (Mil)
18/02/2019
 
USD 2759,50
Gastos Corrientes
04/01/2019
 
0,35%

*  Este informe y rating fueron emitidos para una clase diferente de este mismo fondo. La rentabilidad y la estructura de comisiones de este fondo puede variar de lo mencionado aquí.
We have conviction this exchange-traded fund will outperform its Morningstar Category peers over the long haul. The fully replicated SPDR S&P US Dividend Aristocrats offers a portfolio of companies that have long track records of increasing...
Haga clic aquí para leer el análisis
Objetivo de inversión: SPDR® S&P US Dividend Aristocrats UCITS ETF (EUR) | SPYD
The fund seeks to replicate, before expenses, the performance of the S&P High Yield Dividend Aristocrats Index. The fund tracks the U.S. equity market performance of certain high dividend-yielding equity securities. The index is comprised of the 60 highest dividend-yielding constituents of the stocks of the S&P Composite 1500® Index that have increased dividends every year for at least 25 consecutive years. These stocks have both capital growth and dividend income characteristics, as opposed to stocks that are pure yield, or pure capital oriented.
Returns
| | |
| --- | --- |
| Rentabilidades acumul. % | 18/02/2019 |
| Año | 11,59 |
| 3 años anualiz. | 12,77 |
| 5 años anualiz. | 15,10 |
| 10 años anualiz. | - |
| | | |
| --- | --- | --- |
| Rendimento a 12 meses |   | - |
| Frecuencia de pago de dividendos |   | Quarterly |
Gestión
Nombre del gestor
Fecha Inicio
No Suministrado
14/10/2011
Creación del fondo
14/10/2011
Benchmark de la Categoría
Benchmark de fondos
Benchmark Morningstar
S&P High Yield Dividend Aristcrts NR USD
Russell 1000 Value TR USD
Target Market
Role In Portfolio
Standalone / Core
No específico
Component
No específico
Otro
No específico
Primary Objective
Preservación
No específico
Crecim
Sí
Ingresos
Sí
Cobertura (hedging)
No específico
Otro
No específico
Qué posee el fondo  SPDR® S&P US Dividend Aristocrats UCITS ETF (EUR) | SPYD
31/01/2019
Style Box® de Morningstar
Estilo de acciones
Colocación de activos
 
% largo
% corto
% patrimonio
Acciones
99,78
0,00
99,78
Obligaciones
0,00
0,00
0,00
Efectivo
0,37
0,15
0,22
Otro
0,00
0,00
0,00
| | |
| --- | --- |
| 5 regiones principales | % |
| Estados Unidos | 98,31 |
| Europe - ex Euro | 0,89 |
| Reino Unido | 0,80 |
| Asia - Desarrollada | 0,00 |
| Europe emergente | 0,00 |
5 mayores sectores
%
Servicios Financieros
16,18
Consumo Defensivo
15,97
Industria
15,89
Consumo Cíclico
11,56
Servicios Públicos
8,84