Cómo se ha comportado este fondo
31/01/2019
Crecimiento de 1.000 (EUR)
Gráfico Avanzado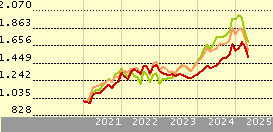 Fondo
15,9
13,4
3,1
4,9
6,3
+/-Cat
5,7
-0,3
-2,7
6,4
-1,3
+/-Ind
2,9
-1,9
-4,0
4,4
-1,4
 
Benchmark de la Categoría: S&P 500 TR USD
Estadística Rápida
Precio de Cierre
18/02/2019
 
USD 51,04
Cambio del día
 
-0,38%
Categoría Morningstar™
 
Large Blend
Volumen
 
3518926
Bolsa
 
NYSE ARCA
ISIN
 
US46138E3541
Patrimonio (Mil)
-
 
-
Patrimonio Clase (Mil)
15/02/2019
 
USD 10215,13
Gastos Corrientes
-
 
-%

*  Este informe y rating fueron emitidos para una clase diferente de este mismo fondo. La rentabilidad y la estructura de comisiones de este fondo puede variar de lo mencionado aquí.
Invesco S&P 500 Low Volatility ETF SPLV aggressively pursues large-cap stocks with low volatility. It should offer a smoother ride and better risk/reward profile than the S&P 500 and most of its peers. But it doesn't constrain its sector...
Haga clic aquí para leer el análisis
Objetivo de inversión: Invesco S&P 500® Low Volatility ETF | SPLV
The investment seeks to track the investment results (before fees and expenses) of the S&P 500® Low Volatility Index (the "underlying index"). The fund generally will invest at least 90% of its total assets in the securities that comprise the underlying index. Strictly in accordance with its guidelines and mandated procedures, the index provider selects 100 securities from the S&P 500® Index for inclusion in the underlying index that have the lowest realized volatility over the past 12 months as determined by S&P DJI.
Returns
| | |
| --- | --- |
| Rentabilidades acumul. % | 18/02/2019 |
| Año | 10,83 |
| 3 años anualiz. | 12,01 |
| 5 años anualiz. | 15,97 |
| 10 años anualiz. | - |
| | | |
| --- | --- | --- |
| Rendimento a 12 meses |   | 2,09 |
Gestión
Nombre del gestor
Fecha Inicio
Peter Hubbard
05/05/2011
Michael Jeanette
05/05/2011
Click here to see others
Creación del fondo
05/05/2011
Benchmark de la Categoría
Benchmark de fondos
Benchmark Morningstar
S&P 500 Low Volatility TR USD
S&P 500 TR USD
Target Market
Role In Portfolio
Standalone / Core
No específico
Component
No específico
Otro
No específico
Primary Objective
Preservación
No específico
Crecim
No específico
Ingresos
No específico
Cobertura (hedging)
No específico
Otro
No específico
Qué posee el fondo  Invesco S&P 500® Low Volatility ETF | SPLV
14/02/2019
Style Box® de Morningstar
Estilo de acciones
Colocación de activos
 
% largo
% corto
% patrimonio
Acciones
99,97
0,00
99,97
Obligaciones
0,00
0,00
0,00
Efectivo
0,03
0,00
0,03
Otro
0,00
0,00
0,00
| | |
| --- | --- |
| 5 regiones principales | % |
| Estados Unidos | 98,98 |
| Europe - ex Euro | 1,02 |
| Canadá | 0,00 |
| Iberoamérica | 0,00 |
| Reino Unido | 0,00 |
5 mayores sectores
%
Servicios Públicos
21,93
Inmobiliario
20,33
Servicios Financieros
17,40
Industria
12,01
Salud
9,15