Cómo se ha comportado este fondo
31/12/2018
Crecimiento de 1.000 (EUR)
Gráfico Avanzado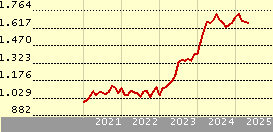 Fondo
6,6
9,1
-2,6
18,7
-16,9
+/-Cat
-
-
-
-
-
+/-Ind
-
-
-
-
-
 
Benchmark de la Categoría: -
Estadística Rápida
Precio de Cierre
18/01/2019
 
EUR 45,60
Cambio del día
 
2,16%
Categoría Morningstar™
 
RV Otros
Volumen
 
2456
Bolsa
 
LONDON STOCK EXCHANGE, THE
ISIN
 
IE00B42Z5J44
Patrimonio (Mil)
18/01/2019
 
EUR 1590,27
Patrimonio Clase (Mil)
18/01/2019
 
EUR 1590,27
Gastos Corrientes
13/07/2018
 
0,64%

*  Este informe y rating fueron emitidos para una clase diferente de este mismo fondo. La rentabilidad y la estructura de comisiones de este fondo puede variar de lo mencionado aquí.
IShares MSCI Japan Monthly EUR Hedged provides currency-hedged exposure to large- and mid-cap Japanese companies. Although the fund offers broad and representative market exposure, several cheaper, broader, and more-representative passive...
Haga clic aquí para leer el análisis
Objetivo de inversión: iShares MSCI Japan EUR Hedged UCITS ETF (Acc) | IJPE
El objetivo de inversión del fondo es proporcionar a los inversores un rendimiento total equivalente al índice MSCI Japan 100% Hedged to EUR Index Net.
Returns
| | |
| --- | --- |
| Rentabilidades acumul. % | 18/01/2019 |
| Año | 5,69 |
| 3 años anualiz. | 4,60 |
| 5 años anualiz. | 3,62 |
| 10 años anualiz. | - |
| | | |
| --- | --- | --- |
| Rendimento a 12 meses |   | 0,00 |
Gestión
Nombre del gestor
Fecha Inicio
No Suministrado
30/09/2010
Creación del fondo
30/09/2010
Benchmark de la Categoría
Benchmark de fondos
Benchmark Morningstar
MSCI Japan 100% Hdg NR EUR
-
Target Market
Role In Portfolio
Standalone / Core
No específico
Component
No específico
Otro
No específico
Primary Objective
Preservación
No específico
Crecim
Sí
Ingresos
Sí
Cobertura (hedging)
No específico
Otro
No específico
Qué posee el fondo  iShares MSCI Japan EUR Hedged UCITS ETF (Acc) | IJPE
16/01/2019
Style Box® de Morningstar
Estilo de acciones
Colocación de activos
 
% largo
% corto
% patrimonio
Acciones
100,85
0,00
100,85
Obligaciones
0,00
0,00
0,00
Efectivo
0,45
1,30
-0,85
Otro
0,00
0,00
0,00
| | |
| --- | --- |
| 5 regiones principales | % |
| Japón | 100,00 |
| Estados Unidos | 0,00 |
| Canadá | 0,00 |
| Iberoamérica | 0,00 |
| Reino Unido | 0,00 |
5 mayores sectores
%
Industria
18,87
Consumo Cíclico
17,21
Tecnología
14,67
Servicios Financieros
11,55
Consumo Defensivo
8,49