Cómo se ha comportado este fondo
31/07/2017
Crecimiento de 1.000 (EUR)
Gráfico Avanzado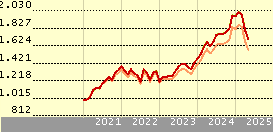 Fondo
26,7
29,3
12,9
15,5
-0,3
+/-Cat
-
-
-
-
0,7
+/-Ind
0,0
-0,2
-0,1
0,2
-0,2
 
Benchmark de la Categoría: S&P 500 TR USD
Estadística Rápida
Precio de Cierre
18/08/2017
 
USD 222,87
Cambio del día
 
-0,25%
Categoría Morningstar™
 
Large Blend
Volumen
 
2691136
Bolsa
 
NYSE ARCA
ISIN
 
US9229083632
Patrimonio (Mil)
-
 
-
Patrimonio Clase (Mil)
18/08/2017
 
USD 70192,13
Gastos Corrientes
-
 
-%

*  Este informe y rating fueron emitidos para una clase diferente de este mismo fondo. La rentabilidad y la estructura de comisiones de este fondo puede variar de lo mencionado aquí.
Vanguard S&P 500 ETF offers exposure to U.S. large-cap stocks. A broadly diversified and reasonably representative benchmark leave this fund well-positioned to continue its long streak of producing superior risk-adjusted returns relative to its...
Haga clic aquí para leer el análisis
Objetivo de inversión: Vanguard S&P 500 Index Fund ETF Class | VOO
The investment seeks to track the performance of a benchmark index that measures the investment return of large-capitalization stocks. The fund employs an indexing investment approach designed to track the performance of the Standard & Poor's 500 Index, a widely recognized benchmark of U.S. stock market performance that is dominated by the stocks of large U.S. companies. The advisor attempts to replicate the target index by investing all, or substantially all, of its assets in the stocks that make up the index, holding each stock in approximately the same proportion as its weighting in the index.
Returns
| | |
| --- | --- |
| Rentabilidades acumul. % | 18/08/2017 |
| Año | -1,67 |
| 3 años anualiz. | 14,21 |
| 5 años anualiz. | 14,71 |
| 10 años anualiz. | - |
| | | |
| --- | --- | --- |
| Rendimento a 12 meses |   | 1,85 |
Gestión
Nombre del gestor
Fecha Inicio
Scott Geiger
27/04/2016
Donald Butler
27/04/2016
Creación del fondo
07/09/2010
Benchmark de la Categoría
Benchmark de fondos
Benchmark Morningstar
S&P 500 TR USD
S&P 500 TR USD
Qué posee el fondo  Vanguard S&P 500 Index Fund ETF Class | VOO
31/07/2017
Style Box® de Morningstar
Estilo de acciones
Colocación de activos
 
% largo
% corto
% patrimonio
Acciones
99,52
0,00
99,52
Obligaciones
0,01
0,00
0,01
Efectivo
0,47
0,00
0,47
Otro
0,00
0,00
0,00
| | |
| --- | --- |
| 5 regiones principales | % |
| Estados Unidos | 99,10 |
| Asia - Emergente | 0,47 |
| Europe - ex Euro | 0,32 |
| Reino Unido | 0,06 |
| Asia - Desarrollada | 0,05 |
5 mayores sectores
%
Tecnología
20,29
Servicios Financieros
16,37
Salud
14,66
Consumo Cíclico
11,03
Industria
10,48