Cómo se ha comportado este fondo
31/12/2018
Crecimiento de 1.000 (EUR)
Gráfico Avanzado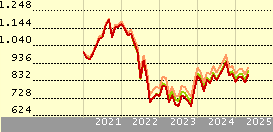 Fondo
25,2
19,4
-5,9
12,6
-8,9
+/-Cat
1,9
1,2
-1,2
0,0
-1,6
+/-Ind
-0,5
0,6
-1,4
-0,8
-1,2
 
Benchmark de la Categoría: FTSE EPRA Nareit Developed ...
Estadística Rápida
Precio de Cierre
22/01/2019
 
EUR 25,16
Cambio del día
 
-0,22%
Categoría Morningstar™
 
Inmobiliario - Indirecto Europa
Volumen
 
2004
Bolsa
 
DEUTSCHER KASSENVEREIN AG GRUPPE DEUTSCHE BOERSE
ISIN
 
LU0489337690
Patrimonio (Mil)
21/01/2019
 
EUR 403,81
Patrimonio Clase (Mil)
21/01/2019
 
EUR 403,81
Gastos Corrientes
20/07/2018
 
0,33%

*  Este informe y rating fueron emitidos para una clase diferente de este mismo fondo. La rentabilidad y la estructura de comisiones de este fondo puede variar de lo mencionado aquí.
Because of its low-cost broad beta exposure to the sector, this fund is a reliable option for investors seeking exposure to the European REITs and listed real estate equity market. The fund tracks an index--FTSE EPRA/NAREIT Developed Europe Real...
Haga clic aquí para leer el análisis
Objetivo de inversión: Xtrackers FTSE Developed Europe Real Estate UCITS ETF 1C | D5BK
The aim is for the investment to reflect the performance of the FTSE EPRA/NAREIT DEVELOPED EUROPE NET TOTAL RETURN Index (Index) which is designed to reflect the performance of the shares of certain property companies (including real estate investment trusts) listed in European developed countries. The weighting of a company on the Index depends on its size, based on the combined value of a company's shares compared to other companies. The Index is calculated on a total return net basis which means that all dividends and distributions are reinvested in the Index after tax. The composition of the Index is reviewed at least quarterly. To achieve the aim, the Fund will attempt to replicate the Index by buying a substantial number of the shares in the Index in the same proportion as the Index as determined by the Sub-Portfolio Manager of the Fund which is Deutsche Asset Management (UK) Limited.
Returns
| | |
| --- | --- |
| Rentabilidades acumul. % | 22/01/2019 |
| Año | 6,75 |
| 3 años anualiz. | 3,58 |
| 5 años anualiz. | 7,89 |
| 10 años anualiz. | - |
| | | |
| --- | --- | --- |
| Rendimento a 12 meses |   | 0,00 |
Gestión
Nombre del gestor
Fecha Inicio
No Suministrado
25/03/2010
Creación del fondo
25/03/2010
Benchmark de la Categoría
Benchmark de fondos
Benchmark Morningstar
FTSE EPRA Nareit Developed Europe NR EUR
FTSE EPRA Nareit Developed Europe TR EUR
Target Market
Role In Portfolio
Standalone / Core
No específico
Component
No específico
Otro
No específico
Primary Objective
Preservación
No específico
Crecim
Sí
Ingresos
No específico
Cobertura (hedging)
No específico
Otro
No específico
Qué posee el fondo  Xtrackers FTSE Developed Europe Real Estate UCITS ETF 1C | D5BK
21/01/2019
Style Box® de Morningstar
Estilo de acciones
Colocación de activos
 
% largo
% corto
% patrimonio
Acciones
94,56
0,00
94,56
Obligaciones
0,00
0,00
0,00
Efectivo
0,00
0,00
0,00
Otro
5,44
0,00
5,44
| | |
| --- | --- |
| 5 regiones principales | % |
| Zona Euro | 60,01 |
| Reino Unido | 23,25 |
| Europe - ex Euro | 16,74 |
| Estados Unidos | 0,00 |
| Canadá | 0,00 |
5 mayores sectores
%
Inmobiliario
98,75
Consumo Cíclico
0,54
Servicios Financieros
0,45
Industria
0,27