Cómo se ha comportado este fondo
31/10/2018
Crecimiento de 1.000 (EUR)
Gráfico Avanzado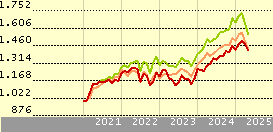 Fondo
22,0
3,5
12,8
3,0
-2,6
+/-Cat
7,0
-4,6
4,3
-1,7
-1,5
+/-Ind
5,3
-4,4
0,3
-0,8
-5,0
 
Benchmark de la Categoría: MSCI World High Dividend Yi...
Estadística Rápida
Cambio del día
 
-0,06%
Bid  (15/11/2018)
 
EUR 25,74
Oferta  (15/11/2018)
 
EUR 26,52
Categoría Morningstar™
 
RV Global Alto Dividendo
Volumen
 
71376
Bolsa
 
DEUTSCHER KASSENVEREIN AG GRUPPE DEUTSCHE BOERSE
ISIN
 
DE000A0F5UH1
Patrimonio (Mil)
15/11/2018
 
EUR 1104,85
Patrimonio Clase (Mil)
15/11/2018
 
EUR 1104,85
Gastos Corrientes
25/01/2018
 
0,46%

*  Este informe y rating fueron emitidos para una clase diferente de este mismo fondo. La rentabilidad y la estructura de comisiones de este fondo puede variar de lo mencionado aquí.
We don't see this fund as a strong proposition within the global equity income space because of its structural biases, lack of diversification-enhancing mechanisms, and uncompetitive fees relative to other passive dividend options.The strategy...
Haga clic aquí para leer el análisis
Objetivo de inversión: iShares STOXX Global Select Dividend 100 UCITS ETF (DE) | ISPA
iShares STOXX Global Select Dividend 100 (DE) is an exchange traded fund (ETF) that aims to track the performance of the STOXX® Global Select Dividend 100 Index as closely as possible. The ETF invests in physical index securities. The STOXX® Global Select Dividend 100 Index offers exposure to 100 high dividend-paying stocks from the STOXX® Global 1800 Index. Only companies are included that have a non-negative historical five-year dividend-per-share growth rate and a dividend to earnings-per-share ratio of less than or equal to 60% in Europe and the Americas and 80% in Asia/Pacific. The index is weighted according to net dividend yield. iShares ETFs are funds managed by BlackRock. They are transparent, cost-efficient, liquid vehicles that trade on stock exchanges like normal securities. iShares ETFs offer flexible and easy access to a wide range of markets and asset classes.
Returns
| | |
| --- | --- |
| Rentabilidades acumul. % | 16/11/2018 |
| Año | -1,74 |
| 3 años anualiz. | 4,64 |
| 5 años anualiz. | 7,19 |
| 10 años anualiz. | - |
| | | |
| --- | --- | --- |
| Rendimento a 12 meses |   | 3,84 |
| Frecuencia de pago de dividendos |   | Quarterly |
Gestión
Nombre del gestor
Fecha Inicio
No Suministrado
25/09/2009
Creación del fondo
25/09/2009
Benchmark de la Categoría
Benchmark de fondos
Benchmark Morningstar
STOXX Global Select Dividend 100 NR EUR
MSCI World High Dividend Yield NR USD
Target Market
Role In Portfolio
Standalone / Core
No específico
Component
No específico
Otro
No específico
Primary Objective
Preservación
No específico
Crecim
Sí
Ingresos
Sí
Cobertura (hedging)
No específico
Otro
No específico
Qué posee el fondo  iShares STOXX Global Select Dividend 100 UCITS ETF (DE) | ISPA
15/11/2018
Style Box® de Morningstar
Estilo de acciones
Colocación de activos
 
% largo
% corto
% patrimonio
Acciones
99,48
0,00
99,48
Obligaciones
0,00
0,00
0,00
Efectivo
0,52
0,00
0,52
Otro
0,00
0,00
0,00
| | |
| --- | --- |
| 5 regiones principales | % |
| Estados Unidos | 23,64 |
| Asia - Desarrollada | 20,33 |
| Zona Euro | 15,64 |
| Reino Unido | 12,56 |
| Australasia | 11,88 |
5 mayores sectores
%
Servicios Financieros
25,11
Servicios Públicos
19,79
Inmobiliario
14,92
Servicios de Comunicación
10,49
Industria
6,34