Cómo se ha comportado este fondo
28/02/2018
Crecimiento de 1.000 (EUR)
Gráfico Avanzado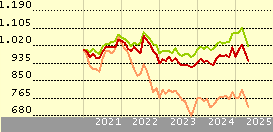 Fondo
23,8
12,5
5,0
-9,1
-4,6
+/-Cat
-14,8
2,3
0,8
-4,3
2,8
+/-Ind
3,1
0,5
-0,7
-0,1
-1,0
 
Benchmark de la Categoría: BBgBarc US Agg Bond TR USD
Estadística Rápida
Precio de Cierre
23/03/2018
 
MXN 102,70
Cambio del día
 
-0,49%
Categoría Morningstar™
 
Long Government
Volumen
 
0
Bolsa
 
BOLSA MEXICANA DE VALORES (MEXICAN STOCK EXCHANGE)
ISIN
 
US4642874402
Patrimonio (Mil)
-
 
-
Patrimonio Clase (Mil)
23/03/2018
 
USD 8348,74
Gastos Corrientes
-
 
-%

*  Este informe y rating fueron emitidos para una clase diferente de este mismo fondo. La rentabilidad y la estructura de comisiones de este fondo puede variar de lo mencionado aquí.
IShares 7-10 Year Treasury Bond IEF provides market-cap-weighted exposure to Treasury securities with between seven and 10 years until maturity. This low-cost, conservative strategy is likely to produce attractive Morningstar Category-relative...
Haga clic aquí para leer el análisis
Objetivo de inversión: iShares 7-10 Year Treasury Bond ETF (MXN) | IEF
The investment seeks to track the investment results of the ICE U.S. Treasury 7-10 Year Bond Index. The fund generally invests at least 90% of its assets in the bonds of the underlying index and at least 95% of its assets in U.S. government bonds. The underlying index measures the performance of public obligations of the U.S. Treasury that have a remaining maturity of greater than seven years and less than or equal to ten years.
Returns
| | |
| --- | --- |
| Rentabilidades acumul. % | 23/03/2018 |
| Año | -0,09 |
| 3 años anualiz. | -10,71 |
| 5 años anualiz. | -5,88 |
| 10 años anualiz. | 0,22 |
Gestión
Nombre del gestor
Fecha Inicio
James Mauro
01/07/2011
Scott Radell
01/07/2010
Creación del fondo
22/07/2002
Benchmark de la Categoría
Benchmark de fondos
Benchmark Morningstar
ICE U.S. Treasury 7-10 Year Bond TR USD
BBgBarc US Agg Bond TR USD
Target Market
Role In Portfolio
Standalone / Core
No específico
Component
No específico
Otro
No específico
Primary Objective
Preservación
No específico
Crecim
Sí
Ingresos
Sí
Cobertura (hedging)
No específico
Otro
No específico
Qué posee el fondo  iShares 7-10 Year Treasury Bond ETF (MXN) | IEF
22/03/2018
Renta Fija
Vencimiento efectivo
8,29
Duración efectiva
7,51
Style Box® de Morningstar
Estilo de renta fija
Colocación de activos
 
% largo
% corto
% patrimonio
Acciones
0,00
0,00
0,00
Obligaciones
100,00
0,00
100,00
Efectivo
0,00
0,00
0,00
Otro
0,00
0,00
0,00