Vanguard Total World Stock Index Fund ETF Shares | VT
Cómo se ha comportado este fondo
31/05/2019
Crecimiento de 1.000 (EUR)
Gráfico Avanzado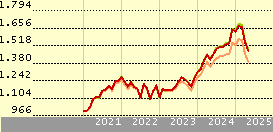 Fondo
9,3
11,8
9,3
-5,2
12,0
+/-Cat
-0,2
3,1
0,8
-0,1
-0,4
+/-Ind
4,2
4,1
-2,4
4,7
2,1
 
Benchmark de la Categoría: MSCI ACWI Ex USA NR USD
Estadística Rápida
Precio de Cierre
26/06/2019
 
USD 74,49
Cambio del día
 
0,11%
Categoría Morningstar™
 
World Large Stock
Volumen
 
712317
Bolsa
 
NYSE ARCA
ISIN
 
US9220427424
Patrimonio (Mil)
-
 
-
Patrimonio Clase (Mil)
24/06/2019
 
USD 12481,00
Gastos Corrientes
-
 
-%
Vanguard Total World Stock ETF VT is a great one-stop choice for exposure to global stocks of all sizes. Its well-diversified portfolio and ultralow expense ratio support a Morningstar Analyst Rating of Silver.The fund tracks the FTSE Global...
Haga clic aquí para leer el análisis
Objetivo de inversión: Vanguard Total World Stock Index Fund ETF Shares | VT
The investment seeks to track the performance of a benchmark index that measures the investment return of stocks of companies located in developed and emerging markets around the world. The fund employs an indexing investment approach designed to track the performance of the FTSE Global All Cap Index. The advisor attempts to sample the target index by investing all, or substantially all, of its assets in common stocks in the index and by holding a representative sample of securities that resembles the full index in terms of key risk factors and other characteristics.
Returns
| | |
| --- | --- |
| Rentabilidades acumul. % | 26/06/2019 |
| Año | 15,65 |
| 3 años anualiz. | 11,48 |
| 5 años anualiz. | 10,04 |
| 10 años anualiz. | 12,58 |
| | | |
| --- | --- | --- |
| Rendimento a 12 meses |   | 2,36 |
Gestión
Nombre del gestor
Fecha Inicio
Christine Franquin
22/02/2013
Scott Geiger
30/11/2017
Creación del fondo
24/06/2008
Benchmark de la Categoría
Benchmark de fondos
Benchmark Morningstar
FTSE Global All Cap (US RIC) NR USD
MSCI ACWI Ex USA NR USD
Target Market
Role In Portfolio
Standalone / Core
No específico
Component
No específico
Otro
No específico
Primary Objective
Preservación
No específico
Crecim
No específico
Ingresos
No específico
Cobertura (hedging)
No específico
Otro
No específico
Qué posee el fondo  Vanguard Total World Stock Index Fund ETF Shares | VT
31/05/2019
Style Box® de Morningstar
Estilo de acciones
Colocación de activos
 
% largo
% corto
% patrimonio
Acciones
98,60
0,00
98,60
Obligaciones
0,00
0,00
0,00
Efectivo
1,34
0,00
1,34
Otro
0,06
0,00
0,06
| | |
| --- | --- |
| 5 regiones principales | % |
| Estados Unidos | 54,95 |
| Zona Euro | 8,72 |
| Japón | 7,74 |
| Asia - Emergente | 5,56 |
| Reino Unido | 5,39 |
5 mayores sectores
%
Tecnología
17,91
Servicios Financieros
17,69
Consumo Cíclico
11,91
Industria
11,20
Salud
11,15