WisdomTree Emerging Markets High Dividend Fund | DEM
Cómo se ha comportado este fondo
31/08/2019
Crecimiento de 1.000 (EUR)
Gráfico Avanzado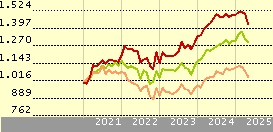 Fondo
-12,5
26,1
10,9
-3,0
8,9
+/-Cat
-8,5
14,4
-7,0
8,8
-1,5
+/-Ind
-17,6
18,5
-0,8
6,8
-4,0
 
Benchmark de la Categoría: MSCI ACWI Ex USA NR USD
Estadística Rápida
Precio de Cierre
13/09/2019
 
USD 43,77
Cambio del día
 
0,18%
Categoría Morningstar™
 
Diversified Emerging Mkts
Volumen
 
359393
Bolsa
 
NYSE ARCA
ISIN
 
US97717W3152
Patrimonio (Mil)
-
 
-
Patrimonio Clase (Mil)
13/09/2019
 
USD 2229,11
Gastos Corrientes
-
 
-%
WisdomTree Emerging Markets High Dividend Fund targets high-yielding stocks. The fund's approach introduces a strong value orientation that tilts its portfolio toward risky segments of the market. It warrants a Morningstar Analyst Rating of...
Haga clic aquí para leer el análisis
Objetivo de inversión: WisdomTree Emerging Markets High Dividend Fund | DEM
The investment seeks to track the price and yield performance, before fees and expenses, of the WisdomTree Emerging Markets High Dividend Index. Under normal circumstances, at least 95% of the fund's total assets (exclusive of collateral held from securities lending) will be invested in component securities of the index and investments that have economic characteristics that are substantially identical to the economic characteristics of such component securities. The index is a fundamentally weighted index that is comprised of the highest dividend-yielding common stocks selected from the WisdomTree Emerging Markets Dividend Index. The fund is non-diversified.
Returns
| | |
| --- | --- |
| Rentabilidades acumul. % | 13/09/2019 |
| Año | 14,04 |
| 3 años anualiz. | 10,81 |
| 5 años anualiz. | 4,09 |
| 10 años anualiz. | 6,24 |
| | | |
| --- | --- | --- |
| Rendimento a 12 meses |   | 4,82 |
Gestión
Nombre del gestor
Fecha Inicio
Thomas Durante
29/02/2008
Richard Brown
29/02/2008
Click here to see others
Creación del fondo
13/07/2007
Benchmark de la Categoría
Benchmark de fondos
Benchmark Morningstar
WisdomTree EM High Dividend TR USD
MSCI ACWI Ex USA NR USD
Target Market
Role In Portfolio
Standalone / Core
No específico
Component
No específico
Otro
No específico
Primary Objective
Preservación
No específico
Crecim
No específico
Ingresos
No específico
Cobertura (hedging)
No específico
Otro
No específico
Qué posee el fondo  WisdomTree Emerging Markets High Dividend Fund | DEM
12/09/2019
Style Box® de Morningstar
Estilo de acciones
Colocación de activos
 
% largo
% corto
% patrimonio
Acciones
100,00
0,00
100,00
Obligaciones
0,00
0,00
0,00
Efectivo
0,00
0,00
0,00
Otro
0,00
0,00
0,00
| | |
| --- | --- |
| 5 regiones principales | % |
| Asia - Emergente | 34,83 |
| Asia - Desarrollada | 27,84 |
| Europe emergente | 19,54 |
| África | 7,24 |
| Iberoamérica | 7,20 |
5 mayores sectores
%
Servicios Financieros
21,05
Energía
16,54
Materiales Básicos
16,51
Tecnología
11,65
Servicios de Comunicación
10,41