Vanguard FTSE Pacific Index Fund ETF Shares | VPL
Cómo se ha comportado este fondo
30/06/2019
Crecimiento de 1.000 (EUR)
Gráfico Avanzado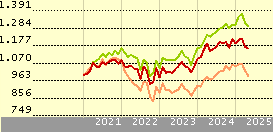 Fondo
13,7
8,5
13,2
-10,1
10,5
+/-Cat
0,7
1,6
-1,3
1,3
-0,9
+/-Ind
8,6
0,9
1,5
-0,2
-3,5
 
Benchmark de la Categoría: MSCI ACWI Ex USA NR USD
Estadística Rápida
Precio de Cierre
15/07/2019
 
USD 66,38
Cambio del día
 
-0,08%
Categoría Morningstar™
 
Diversified Pacific/Asia
Volumen
 
220662
Bolsa
 
NYSE ARCA
ISIN
 
US9220428661
Patrimonio (Mil)
-
 
-
Patrimonio Clase (Mil)
12/07/2019
 
USD 3795,78
Gastos Corrientes
-
 
-%
Vanguard FTSE Pacific ETF VPL has an exceptionally low fee, but it doesn't provide great geographic diversification or tap into the full opportunity set available to its competitors. This strategy earns a Morningstar Analyst Rating of Bronze.The...
Haga clic aquí para leer el análisis
Objetivo de inversión: Vanguard FTSE Pacific Index Fund ETF Shares | VPL
The investment seeks to track the performance of a benchmark index that measures the investment return of stocks issued by companies located in the major markets of the Pacific region. The fund employs an indexing investment approach by investing all, or substantially all, of its assets in the common stocks included in the FTSE Developed Asia Pacific All Cap Index. The FTSE Developed Asia Pacific All Cap Index is a market-capitalization-weighted index.
Returns
| | |
| --- | --- |
| Rentabilidades acumul. % | 15/07/2019 |
| Año | 12,25 |
| 3 años anualiz. | 7,03 |
| 5 años anualiz. | 7,83 |
| 10 años anualiz. | 9,29 |
| | | |
| --- | --- | --- |
| Rendimento a 12 meses |   | 2,82 |
Gestión
Nombre del gestor
Fecha Inicio
Jeffrey Miller
26/02/2016
Michael Perre
26/02/2016
Creación del fondo
04/03/2005
Benchmark de la Categoría
Benchmark de fondos
Benchmark Morningstar
FTSE Dvlp Asia Pacific AC(US RIC)NR USD
MSCI ACWI Ex USA NR USD
Target Market
Role In Portfolio
Standalone / Core
No específico
Component
No específico
Otro
No específico
Primary Objective
Preservación
No específico
Crecim
No específico
Ingresos
No específico
Cobertura (hedging)
No específico
Otro
No específico
Qué posee el fondo  Vanguard FTSE Pacific Index Fund ETF Shares | VPL
30/06/2019
Style Box® de Morningstar
Estilo de acciones
Colocación de activos
 
% largo
% corto
% patrimonio
Acciones
97,92
0,00
97,92
Obligaciones
0,04
0,00
0,04
Efectivo
2,04
0,00
2,04
Otro
0,01
0,00
0,01
| | |
| --- | --- |
| 5 regiones principales | % |
| Japón | 57,35 |
| Asia - Desarrollada | 20,79 |
| Australasia | 16,90 |
| Asia - Emergente | 1,54 |
| Zona Euro | 1,06 |
5 mayores sectores
%
Industria
16,85
Tecnología
14,87
Servicios Financieros
14,86
Consumo Cíclico
14,30
Materiales Básicos
8,96