Cómo se ha comportado este fondo
31/01/2019
Crecimiento de 1.000 (EUR)
Gráfico Avanzado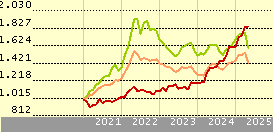 Fondo
-0,4
11,5
-0,8
3,2
2,5
+/-Cat
3,5
-
-
-
-
+/-Ind
17,5
-4,8
9,3
9,7
-5,0
 
Benchmark de la Categoría: Morningstar Lng-Only Cmdty ...
Estadística Rápida
Precio de Cierre
18/02/2019
 
USD 12,66
Cambio del día
 
-0,38%
Categoría Morningstar™
 
Commodities Precious Metals
Volumen
 
15784047
Bolsa
 
NYSE ARCA
ISIN
 
US4642851053
Patrimonio (Mil)
-
 
-
Patrimonio Clase (Mil)
15/02/2019
 
USD 12651,10
Gastos Corrientes
-
 
-%
Objetivo de inversión: iShares Gold Trust | IAU
The investment seeks to reflect generally the performance of the price of gold. The Trust seeks to reflect such performance before payment of the Trust's expenses and liabilities. It is not actively managed. The Trust does not engage in any activities designed to obtain a profit from, or to ameliorate losses caused by, changes in the price of gold. The advisor intends to constitute a simple and cost-effective means of making an investment similar to an investment in gold. An investment in physical gold requires expensive and sometimes complicated arrangements in connection with the assay, transportation, warehousing and insurance of the metal.
Returns
| | |
| --- | --- |
| Rentabilidades acumul. % | 18/02/2019 |
| Año | 4,14 |
| 3 años anualiz. | 1,32 |
| 5 años anualiz. | 3,71 |
| 10 años anualiz. | 3,77 |
| | | |
| --- | --- | --- |
| Rendimento a 12 meses |   | 0,00 |
Gestión
Nombre del gestor
Fecha Inicio
 Management Team
21/01/2005
Creación del fondo
21/01/2005
Benchmark de la Categoría
Benchmark de fondos
Benchmark Morningstar
LBMA Gold Price PM USD
Morningstar Lng-Only Cmdty TR USD
Target Market
Role In Portfolio
Standalone / Core
No específico
Component
No específico
Otro
No específico
Primary Objective
Preservación
No específico
Crecim
No específico
Ingresos
No específico
Cobertura (hedging)
No específico
Otro
No específico
Qué posee el fondo  iShares Gold Trust | IAU
31/01/2019
Style Box® de Morningstar
Estilo de acciones
Style Box® de Morningstar
Estilo de renta fija

Colocación de activos
 
% largo
% corto
% patrimonio
Acciones
0,00
0,00
0,00
Obligaciones
0,00
0,00
0,00
Efectivo
0,00
0,00
0,00
Otro
100,00
0,00
100,00
Renta Fija
Vencimiento efectivo
-
Duración efectiva
-

5 regiones principales
%
No hay datos disponibles
5 mayores sectores
%
No hay datos disponibles

5 mayores posic.
Sector
%
Gold
100,00
Incremento Reducción Nuevo desde la anterior cartera
iShares Gold Trust | IAU