Vanguard Real Estate Index Fund ETF Shares | VNQ
Cómo se ha comportado este fondo
31/05/2019
Crecimiento de 1.000 (EUR)
Gráfico Avanzado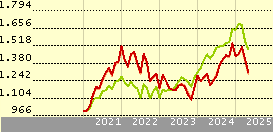 Fondo
14,1
11,9
-7,9
-1,3
20,4
+/-Cat
0,0
1,8
-1,2
0,0
1,0
+/-Ind
5,3
0,8
-16,7
3,6
8,5
 
Benchmark de la Categoría: MSCI ACWI NR USD
Estadística Rápida
Precio de Cierre
26/06/2019
 
USD 86,82
Cambio del día
 
-1,95%
Categoría Morningstar™
 
Real Estate
Volumen
 
5381289
Bolsa
 
NYSE ARCA
ISIN
 
US9229085538
Patrimonio (Mil)
-
 
-
Patrimonio Clase (Mil)
24/06/2019
 
USD 34578,46
Gastos Corrientes
-
 
-%
Vanguard Real Estate ETF VNQ is one of the cheapest real estate funds available, with an expense ratio of 0.12%. It features experienced management and an excellent record of tracking its index. It is a fine option in its niche, earning a...
Haga clic aquí para leer el análisis
Objetivo de inversión: Vanguard Real Estate Index Fund ETF Shares | VNQ
The investment seeks to provide a high level of income and moderate long-term capital appreciation by tracking the performance of the MSCI US Investable Market Real Estate 25/50 Index that measures the performance of publicly traded equity REITs and other real estate-related investments. The advisor attempts to track the index by investing all, or substantially all, of its assets-either directly or indirectly through a wholly owned subsidiary, which is itself a registered investment company-in the stocks that make up the index, holding each stock in approximately the same proportion as its weighting in the index. The fund is non-diversified.
Returns
| | |
| --- | --- |
| Rentabilidades acumul. % | 26/06/2019 |
| Año | 17,82 |
| 3 años anualiz. | 4,14 |
| 5 años anualiz. | 11,32 |
| 10 años anualiz. | 17,83 |
| | | |
| --- | --- | --- |
| Rendimento a 12 meses |   | 3,96 |
Gestión
Nombre del gestor
Fecha Inicio
Walter Nejman
25/05/2016
Gerard O'Reilly
13/05/1996
Creación del fondo
23/09/2004
Benchmark de la Categoría
Benchmark de fondos
Benchmark Morningstar
MSCI US IMI/Real Estate 25-50 GR USD
MSCI ACWI NR USD
Target Market
Role In Portfolio
Standalone / Core
No específico
Component
No específico
Otro
No específico
Primary Objective
Preservación
No específico
Crecim
No específico
Ingresos
No específico
Cobertura (hedging)
No específico
Otro
No específico
Qué posee el fondo  Vanguard Real Estate Index Fund ETF Shares | VNQ
31/05/2019
Style Box® de Morningstar
Estilo de acciones
Colocación de activos
 
% largo
% corto
% patrimonio
Acciones
99,05
0,00
99,05
Obligaciones
0,00
0,00
0,00
Efectivo
0,95
0,00
0,95
Otro
0,00
0,00
0,00
| | |
| --- | --- |
| 5 regiones principales | % |
| Estados Unidos | 99,96 |
| Canadá | 0,04 |
| Iberoamérica | 0,00 |
| Reino Unido | 0,00 |
| Zona Euro | 0,00 |
5 mayores sectores
%
Inmobiliario
91,70
Servicios de Comunicación
7,93
Materiales Básicos
0,32
Industria
0,05