Cómo se ha comportado este fondo
30/11/2018
Crecimiento de 1.000 (EUR)
Gráfico Avanzado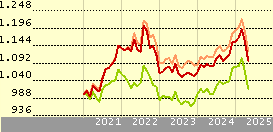 Fondo
18,0
9,4
7,8
-9,6
4,0
+/-Cat
2,0
0,7
0,1
0,2
0,0
+/-Ind
-2,7
-2,6
2,1
-0,5
-0,2
 
Benchmark de la Categoría: BBgBarc US Agg Bond TR USD
Estadística Rápida
Precio de Cierre
11/12/2018
 
USD 109,11
Cambio del día
 
0,06%
Categoría Morningstar™
 
Inflation-Protected Bond
Volumen
 
1503622
Bolsa
 
NYSE ARCA
ISIN
 
US4642871762
Patrimonio (Mil)
-
 
-
Patrimonio Clase (Mil)
11/12/2018
 
USD 21686,35
Gastos Corrientes
-
 
-%

*  Este informe y rating fueron emitidos para una clase diferente de este mismo fondo. La rentabilidad y la estructura de comisiones de este fondo puede variar de lo mencionado aquí.
IShares TIPS Bond ETF TIP is a low-cost index strategy that effectively hedges inflation risk. The inflation-protected bond market is a tough area for active managers, where fees matter a lot. While the fund enjoys a durable cost advantage over...
Haga clic aquí para leer el análisis
Objetivo de inversión: iShares TIPS Bond ETF | TIP
The investment seeks to track the investment results of Bloomberg Barclays U.S. Treasury Inflation Protected Securities (TIPS) Index (Series-L) which composed of inflation-protected U.S. Treasury bonds. The fund generally invests at least 90% of its assets in the bonds of the underlying index and at least 95% of its assets in U.S. government bonds. It may invest up to 10% of its assets in U.S. government bonds not included in the underlying index, but which BFA believes will help the fund track the underlying index. It also may invest up to 5% of its assets in repurchase agreements collateralized by U.S. government obligations and in cash and cash equivalents.
Returns
| | |
| --- | --- |
| Rentabilidades acumul. % | 11/12/2018 |
| Año | 3,97 |
| 3 años anualiz. | 0,66 |
| 5 años anualiz. | 5,42 |
| 10 años anualiz. | 5,06 |
| | | |
| --- | --- | --- |
| Rendimento a 12 meses |   | 3,00 |
Gestión
Nombre del gestor
Fecha Inicio
James Mauro
01/07/2011
Scott Radell
01/07/2010
Creación del fondo
04/12/2003
Benchmark de la Categoría
Benchmark de fondos
Benchmark Morningstar
BBgBarc US Treasury US TIPS TR USD
BBgBarc US Agg Bond TR USD
Target Market
Role In Portfolio
Standalone / Core
No específico
Component
No específico
Otro
No específico
Primary Objective
Preservación
No específico
Crecim
No específico
Ingresos
No específico
Cobertura (hedging)
No específico
Otro
No específico
Qué posee el fondo  iShares TIPS Bond ETF | TIP
10/12/2018
Renta Fija
Vencimiento efectivo
7,97
Duración efectiva
7,29
Style Box® de Morningstar
Estilo de renta fija
Colocación de activos
 
% largo
% corto
% patrimonio
Acciones
0,00
0,00
0,00
Obligaciones
99,99
0,00
99,99
Efectivo
0,01
0,00
0,01
Otro
0,00
0,00
0,00