iShares 1-3 Year Treasury Bond ETF | SHY
Cómo se ha comportado este fondo
30/04/2019
Crecimiento de 1.000 (EUR)
Gráfico Avanzado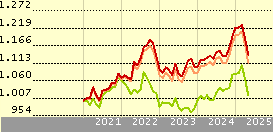 Fondo
11,9
3,8
-11,9
6,6
3,2
+/-Cat
0,3
0,3
-0,3
0,3
-0,1
+/-Ind
-0,1
-1,9
-2,9
1,5
-1,9
 
Benchmark de la Categoría: BBgBarc US Agg Bond TR USD
Estadística Rápida
Precio de Cierre
24/05/2019
 
USD 84,23
Cambio del día
 
-0,52%
Categoría Morningstar™
 
Short Government
Volumen
 
1318848
Bolsa
 
NASDAQ
ISIN
 
US4642874576
Patrimonio (Mil)
-
 
-
Patrimonio Clase (Mil)
24/05/2019
 
USD 19901,61
Gastos Corrientes
-
 
-%
IShares 1-3 Year Treasury Bond ETF SHY has a sound portfolio that should hold up well during periods of distress. This conservative Treasury strategy features one of the lowest expense ratios in the short government Morningstar Category and earns...
Haga clic aquí para leer el análisis
Objetivo de inversión: iShares 1-3 Year Treasury Bond ETF | SHY
The investment seeks to track the investment results of the ICE U.S. Treasury 1-3 Year Bond Index (the "underlying index"). The fund generally invests at least 90% of its assets in the bonds of the underlying index and at least 95% of its assets in U.S. government bonds. The underlying index measures the performance of public obligations of the U.S. Treasury that have a remaining maturity of greater than one year and less than or equal to three years.
Returns
| | |
| --- | --- |
| Rentabilidades acumul. % | 24/05/2019 |
| Año | 3,55 |
| 3 años anualiz. | 0,97 |
| 5 años anualiz. | 4,95 |
| 10 años anualiz. | 3,23 |
| | | |
| --- | --- | --- |
| Rendimento a 12 meses |   | 1,95 |
Gestión
Nombre del gestor
Fecha Inicio
James Mauro
01/07/2011
Scott Radell
01/07/2010
Creación del fondo
22/07/2002
Benchmark de la Categoría
Benchmark de fondos
Benchmark Morningstar
ICE U.S. Treasury 1-3 Year Bond TR USD
BBgBarc US Agg Bond TR USD
Target Market
Role In Portfolio
Standalone / Core
No específico
Component
No específico
Otro
No específico
Primary Objective
Preservación
No específico
Crecim
No específico
Ingresos
No específico
Cobertura (hedging)
No específico
Otro
No específico
Qué posee el fondo  iShares 1-3 Year Treasury Bond ETF | SHY
23/05/2019
Renta Fija
Vencimiento efectivo
1,95
Duración efectiva
1,88
Style Box® de Morningstar
Estilo de renta fija
Colocación de activos
 
% largo
% corto
% patrimonio
Acciones
0,00
0,00
0,00
Obligaciones
99,88
0,00
99,88
Efectivo
0,12
0,00
0,12
Otro
0,00
0,00
0,00