Cómo se ha comportado este fondo
30/11/2018
Crecimiento de 1.000 (EUR)
Gráfico Avanzado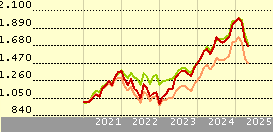 Fondo
35,7
21,9
10,3
16,5
16,0
+/-Cat
10,5
6,5
4,0
4,4
2,5
+/-Ind
6,3
9,0
-5,0
9,5
4,5
 
Benchmark de la Categoría: S&P 500 TR USD
Estadística Rápida
Precio de Cierre
10/12/2018
 
USD 163,07
Cambio del día
 
1,17%
Categoría Morningstar™
 
Large Growth
Volumen
 
70594743
Bolsa
 
NASDAQ
ISIN
 
US46090E1038
Patrimonio (Mil)
-
 
-
Patrimonio Clase (Mil)
07/12/2018
 
USD 63850,95
Gastos Corrientes
-
 
-%

*  Este informe y rating fueron emitidos para una clase diferente de este mismo fondo. La rentabilidad y la estructura de comisiones de este fondo puede variar de lo mencionado aquí.
Invesco QQQ ETF QQQ offers some benefits, but its single exchange focus and concentrated portfolio limit its appeal. The fund tracks an exchange benchmark with lopsided sector weightings, including a heavy stake in technology stocks, that it...
Haga clic aquí para leer el análisis
Objetivo de inversión: Invesco QQQ Trust | QQQ
The investment seeks investment results that generally correspond to the price and yield performance of the index. To maintain the correspondence between the composition and weights of the securities in the trust (the "securities") and the stocks in the NASDAQ-100 Index®, the adviser adjusts the securities from time to time to conform to periodic changes in the identity and/or relative weights of index securities. The composition and weighting of the securities portion of a portfolio deposit are also adjusted to conform to changes in the index.
Returns
| | |
| --- | --- |
| Rentabilidades acumul. % | 10/12/2018 |
| Año | 11,12 |
| 3 años anualiz. | 12,48 |
| 5 años anualiz. | 19,29 |
| 10 años anualiz. | 21,24 |
| | | |
| --- | --- | --- |
| Rendimento a 12 meses |   | 0,78 |
Gestión
Nombre del gestor
Fecha Inicio
 Management Team
10/03/1999
Creación del fondo
10/03/1999
Benchmark de la Categoría
Benchmark de fondos
Benchmark Morningstar
NASDAQ 100 TR USD
S&P 500 TR USD
Target Market
Role In Portfolio
Standalone / Core
No específico
Component
No específico
Otro
No específico
Primary Objective
Preservación
No específico
Crecim
No específico
Ingresos
No específico
Cobertura (hedging)
No específico
Otro
No específico
Qué posee el fondo  Invesco QQQ Trust | QQQ
09/12/2018
Style Box® de Morningstar
Estilo de acciones
Colocación de activos
 
% largo
% corto
% patrimonio
Acciones
99,78
0,00
99,78
Obligaciones
0,00
0,00
0,00
Efectivo
0,22
0,00
0,22
Otro
0,00
0,00
0,00
| | |
| --- | --- |
| 5 regiones principales | % |
| Estados Unidos | 97,46 |
| Asia - Emergente | 1,67 |
| Reino Unido | 0,36 |
| Asia - Desarrollada | 0,30 |
| Iberoamérica | 0,20 |
5 mayores sectores
%
Tecnología
54,66
Consumo Cíclico
19,70
Salud
9,31
Consumo Defensivo
6,81
Servicios de Comunicación
4,30